Freedom Wars out today in North America, Friday in Europe
Catch the launch trailer and a message from the producer.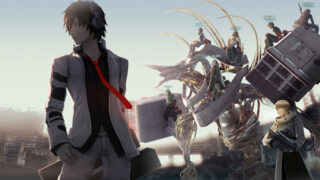 Freedom Wars is out today for PS Vita in North America and this Friday in Europe.
The SCE Japan Studio, Shift, and Dimps-developed action RPG sentences players to one million years of imprisonment, which must be worked off by rescuing civilians.
Patch 1.20 will be available later today, which adds an eight-player PvP mode, eliminates the online pass requirement, tweaks and balances the game difficulty, and more.
From here on, Sony is planning several weeks of downloadable content, including free content until the end of November. This includes "everything from weapon packs and hairstyle additions to battle music and sticker packs."
Find the launch trailer and a message from the game's producer below.
Hello everyone,

This is Junichi Yoshizawa, producer on Freedom Wars.

We've finally reached the launch of Freedom Wars for North America and Europe — thank you very much for all of your patience! I'm so happy that we're finally able to get Freedom Wars into your hands!

Freedom Wars isn't a game that's just about defeating your enemies, it's a game about "Reclamation" — saving your friends and civilians from the clutches of the enemies you face.

While you're playing through the game, don't forget the various cooperative and competitive modes that you can enjoy in Freedom Wars! The co-op mode will let you take on any Operation, whether it's story-based or a specially timed "Redemption" Operation, with teammates via Ad-hoc or Online connections.

The latter half of the game can become a bit difficult, so please play with others in order to complete these Operations and finish the story!

I'd also like to share a little advice to those that are about to start the game. As you play, you'll be able to gradually level-up the equipment of NPC characters you encounter throughout the story. From the "Window on Liberty" located within your cell, make sure to claim the "Comrade Loadout" entitlements for your fellow teammates — taking a well-leveled team with you into combat will drastically increase your chances of success!

There's also ways to strengthen your Sinner by equipping "Augmentations." As you proceed throughout the story, you'll receive the ability to create these Augmentations — make sure to create and equip those that will be most helpful given the Operation you're trying to complete!

I've already said a lot here, but I'm thrilled that we're finally able to have our North American and European fans experience Freedom Wars.

We created Freedom Wars with the hope that every PlayStation Vita or PlayStation TV owner will be able to enjoy it.
So please, enjoy the million year sentence-enforcing world, the reclamation-focused multiplayer, the League of Panopticons, and the engaging storyline that make up Freedom Wars.

For the Greater Good!

– Yoshizawa