First look at Renard and Simon in Tales of Zestiria
Direct-feed shots of the assassin and mysterious Seraph.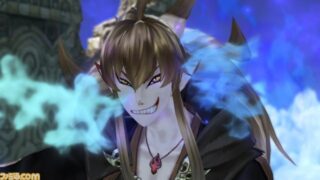 Famitsu has gone up with its latest online preview of Tales of Zestiria, providing a first look at new characters Renard and Simon.
Renard, voiced by Takehito Koyasu, is a member of the elusie assassins guild "Bone of the Wind." Through fighting him, Sorey is made to confront the horrid reality that people are turning into Hyouma.
Simon, voiced by Hiromi Igarashi, is a mysterious Seraph who speaks in philosophical-like expressions. She repeatedly appears before Sorey and the others under the belief that their work is a waste of time, but her true motive is unknown.
Tales of Zestiria is due out for PlayStation 3 on January 22 in Japan and by summer 2015 in North America and Europe.