A deep message from the producer of Senran Kagura: Shinovi Versus
Deeper words have never before been spoken.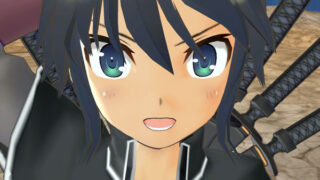 Senran Kagura: Shinovi Versus launched for PS Vita today. And unless you purchase the "Let's Get Physical" retail version, you'll miss this deep and thought-provoking message included from the game's producer, Kenichiro Takaki.
So here it is:
(Warning: Sexual language.)
Special Message from the Producer, Kenichiro Takaki:

The Senran Kagura series will continue to run non-stop.
That is the calling of a NINJA.


They run faster and jump higher than anyone.
They can easily jump over people's expectations.

These games still have the potential to grow big and large.
Just like the girls' chests.

Tits are life, ass is hometown.
(Reference for that last line.)
And the series will keep on running, as Takaki says. Senran Kagura 2: Deep Crimson launched for 3DS in Japan in August. And in March next year, Senran Kagura: Estival Versus will launch for PlayStation 4 and PS Vita in Japan.
Watch the game's launch trailer below.
Thanks, @Six.