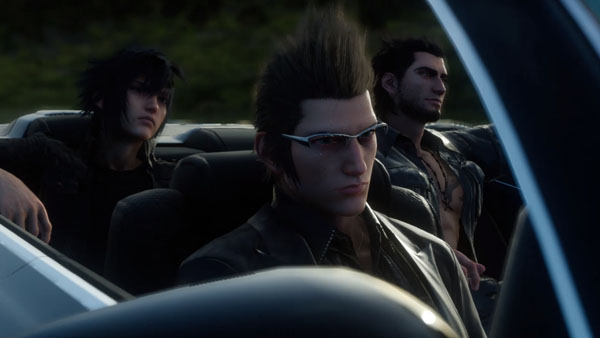 Final Fantasy XV director Hajime Tabata wants to make the game "more casual" than previous entries, he told Eurogamer.
"With Final Fantasy XV, I do want to make it more casual," he said. "Of course the depth of the game is going to be there, but I want to make it so players can easily experience the satisfaction of the depth of the game."
One example of that accessibility is the game's car. While players can drive it from A to B on their own, there is also an option to have it drive itself.
Another example—perhaps causing a greater stir amongst fans—is combat.
"With the hardware specifications of the newer consoles, it's possible to set it up so you have different enemies and different choices of attacks you can enter in, but I want to simplify that," Tabata said.
"It'll basically be a one-button action, and the AI intuitively outputs an action that kind of satisfies, gives you that instant gratification, and it connects with the simple touch of a button. I myself am not getting any younger. I don't want to be frantically pushing buttons. I also want to utilize the intelligence of the hardware spec, and not have to go through too much hassle or trouble in order to execute moves."
As detailed in earlier interviews, the combat system will let players switch between offensive and defensive stances with the push of a button. Holding down the attack button will create a string of interlinking attacks, with pre-set weapons swapping out and chosen automatically based on the situation. Similarly, holding down the defense button will continually guard the player against attacks.
When we last saw it at E3, Final Fantasy XV had more of a Kingdom Hearts battle system, with actions based on menu commands and weapon swapping possible in real-time.
In addition to appealing to a broader audience, Tabata also said that he wants to make the game more grounded in reality.
"When we were making the transition, we sat down and I discussed with [former director] Nomura the game," he said. "I felt that I wanted to shift it more to be more realistic. For example, when you're battling a really strong boss like a behemoth, if you go at it from just the front you're going to get hit with his counter-attacks. You have to think about baiting it to attack forward, but then break its stance and attack it from the side. I wanted to make it so you're fighting a real animal, but with easy-to-manipulate controls as well as dramatic effects. My basis was to keep it grounded in reality."
Tabata also said he wants to make Final Fantasy XV the best of its kind.
"Personally, I'm working on XV to make it the most emotional Final Fantasy title that I've worked on," he says as our hour comes to an end. "My goal is to have people play Final Fantasy XV, and for them to think this is the best Final Fantasy they've ever played."
Final Fantasy XV is in development for PlayStation 4 and Xbox One. A demo will be included with Final Fantasy Type-0 HD when it launches in March 2015.