Square Enix reveals TGS 2014 booth map
One more playable title still to be revealed?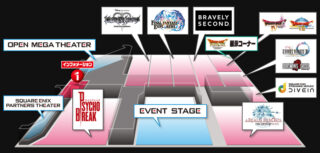 Square Enix has updated its official Tokyo Game Show website with its booth map for next week's expo.
The company will have an Open Mega Theater this year, as well as a Square Enix Partners Theater and Event Stage, and a dedicated area for its newly announced Dive In mobile game streaming service.
Dragon Quest: Heroes has its own corner in the back of the booth, right next to the smartphone versions of Dragon Quest IV and VIII. And next to that, Chaos Rings III: Prequel Trilogy and Deadman's Cross.
Kingdom Hearts HD 2.5 Remix, Final Fantasy Explorers, and Bravely Second are all lined up next to each other, though there is an empty space in between Kingdom Hearts HD 2.5 Remix and Final Fantasy Explorers—a playable game still not announced for the show, perhaps?
The Evil Within is on the left side of the Event Stage, next to the Partners Theater, and Final Fantasy XIV is on the right side.
The Tokyo Game Show runs from September 18 to 21.