The Legend of Legacy reveals seasoned staff
Developers from SaGa, Final Fantasy, Chrono, and more.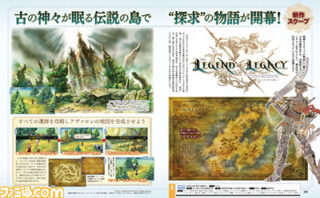 Famitsu this week reveals the main staff working on FuRyu's newly announced The Legend of Legacy for 3DS.
The Bravely Default-looking RPG features a seasoned staff whose previous works include the Final Fantasy and SaGa series, Chrono Trigger, and even Parasite Eve.
Here's the list:
Director: Masataka Matsuura (former Level-5)
Image Illustration: Tomomi Kobayashi (SaGa series)
Game Design: Kyoji Koizumi (SaGa series)
Character Design: Ryo Hirao (Pixiv)
Background Artist: Misako Tsutsui (Final Fantasy, SaGa, etc.)
Monster Design: Yuuichirou Kojima (former Square Enix) and Ryoji Shimogama (Resident Evil, Parasite Eve 2)
Composer: Masashi Hamauzu (SaGa, Final Fantasy, etc.)
Sound Editor: Kenichi Saito
Text Direction: Masato Kato (Chrono Trigger, Chrono Cross, etc.)
Narration: Emiko Shiratori
Title Logo Design: Tadahiko Kawaguchi (Website)
Movie Design: Shuhei Yamagata
Thanks, Famitsu.