FuRyu announces The Legend of Legacy for 3DS
RPG stars seven adventurers, hits Japan in January.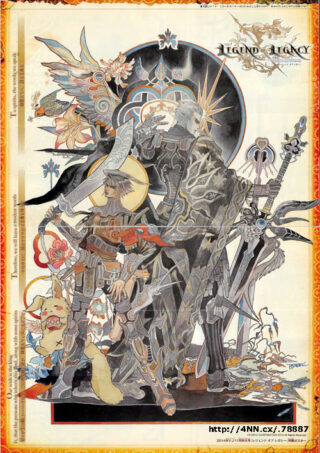 FuRyu's "Project Legacy" teaser site is for The Legend of Legacy, a new 3DS RPG, this month's V-Jump magazine reveals.
Due out on January 22 in Japan for 5,908 yen, the game tells the story of gods' legacy and truth. It begins on the Avalon, a legendary island that has awakened from an eternal slumber. Players can select between seven unique protagonists for their party, including:
Meurs the elementaler
Bianca the amnesiac girl
Liber the treasure hunter
Garnet the church's knight of justice
Owen the capable mercenary
Eloise the bewitching alchemist
Filmia the frog prince
The scan appears to have some gameplay details, but it's all a bit small. We can make out the fact that there's a cartography system, which players can use to draw out the game map.
It's also worth noting that our source, Anime News Network, says the game is a V-Jump collaboration title. However, looking at the scans, we can't find anything to that effect. It's possible it's noted on the text we can't read, but they're usually not so subtle.