Final Fantasy Explorers adds Beastmaster job
Use "Soul Stones" to produce ally summon beasts.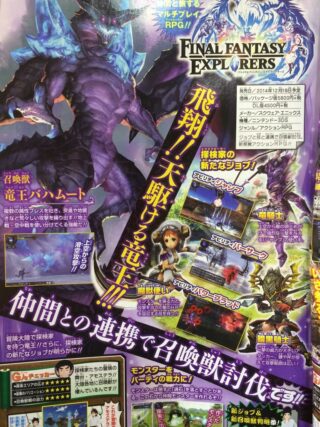 Jump this week has new details on Square Enix's upcoming 3DS action RPG Final Fantasy Explorers.
First, job class details, including a new Beastmaster job:
Dragoon – A "Jump" user who strikes enemies from high into the sky with forceful strikes. Ability: Jump.
Beastmaster – A monster-controlling class with a special technique that absorbs the enemy's power when attacked. Ability: Berserk.
Dark Knight – A class with great attack power and wide range with its sickle and hatchet weapons. Ability: Power Blood.
The magazine also offers new details on Bahamut. The Final Fantasy beast can perform several different elemental breath attacks, as well as rush and earth tremor attacks. It is a formidable enemy players will battle both on the ground and in the air.
When you defeat monsters, they will sometimes drop "Soul Stones." Using these stones, players will be able to produce companion monsters to battle alongside them.
Final Fantasy Explorers is due out for 3DS in Japan on December 18.
Thanks, @kazu4281.