Dragon Quest creator on the series' origins
Yuji Horii on how he went from adventure games to RPGs.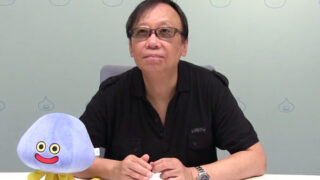 Square Enix has released a new video message featuring Dragon Quest series creator Yuji Horii, who discusses the series origins in promotion of the series' recent and upcoming mobile releases.
Find the transcript below.
How was the Dragon Quest series born?

In terms of how I began creating Dragon Quest… At the time, I had been creating adventure games, but with these types of games, I felt like there were moments where players wouldn't know what to do when they get stuck with a particular conundrum. That said, if we made these "puzzles" too easy, players would be able to complete the game without putting in much effort.

It was then, while facing such a dilemma, that I came across role-playing games. In role-playing games, players can enjoy strengthening their own characters; therefore, to a certain extent, even if the "puzzles" happen to be somewhat easy, players are still able to play the game for extended periods of time. I thought that the game would be enjoyable if we incorporated a story into the existing system, and created one in which the player experiences the game as the main character. This is where it began.

What did you want to accomplish with the Dragon Quest series?

I thought that role-playing games had an interesting system, but they were still considered to be very nice at the time. I wanted to bring these games to home console devices and make them enjoyable, even without prior knowledge of all the difficult elements. As I pondered about what people considered to be fun, it resulted in my belief that people would most likely look forward to experiencing a different life and that's exactly what I wanted to achieve with Dragon Quest.

Any last comments?

We've already released Dragon Quest VIII and IV, but the remaining titles in the series are also making its way to mobile devices, so we'd greatly appreciate your continued support. Thank you.
Watch the video version below.