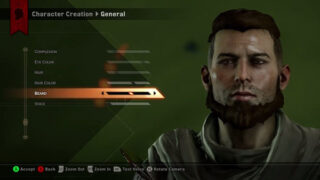 Electronic Arts and BioWare released a new gameplay trailer for Dragon Age: Inquisition today showing off the game's in-depth character creation tool.
Players can customize their characters' face shape, skin tone, complexion, eye color, hair and hair color, beard, voice to boot. And the editor gets more in-depth with full facial feature customization. Customize your nose shape, ear shape, scars, tattoos, and more.
Watch the trailer below. Dragon Age: Inquisition is due out for PlayStation 4, Xbox One, PlayStation 3, Xbox 360, and PC on Noember 18 in North America and November 21 in Europe.