Themes coming to PS4 2.0 update [Update]
Leaked on the latest PlayStation Blogcast.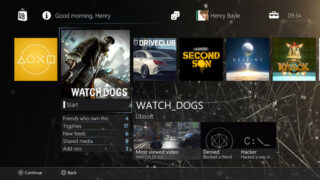 (Above: A fan-made mockup of themes on PlayStation 4.)
Themes are coming to PlayStation 4 via system software update 2.0, the latest PlayStation Blog podcast reveals.
"There was the system software update 2.00, which is going to bring a lot of cool new stuff," PlayStation social media manager Sid Shuman said. "Themes, PS4 getting YouTube support, not only an app, but you'll be able to broadcast onto YouTube… and the big one is Share Play."
Sony announced the latest PlayStation 4 system update during its Gamescom press conference this week. It did not announce themes, but it did promise more features to come.
Thanks, NeoGAF.
Update: Sid Shuman has posted an update on NeoGAF.
"Hi guys – Sid from the Blogcast here, just wanted to confirm that this was in error and the show has been corrected," Shuman said. "Sorry for the mixup! We'll keep you posted on any news related to PS4 themes in the future."
It's possible Shuman spoke earlier than he was supposed to. Again, there are more features planned for 2.0 that have not been announced. And if forum insiders are your thing, a mod-approved NeoGAF insider said themes are a thing for 2.0.