New Etrian Odyssey 2 Japanese release date set
Get the 3DS Etrian Odyssey 2 remake on November 27.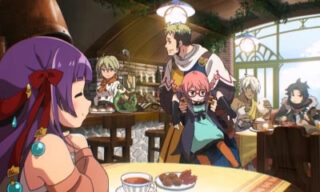 New Etrian Odyssey 2 (or Etrian Odyssey Untold II, I honestly don't know what to call it) will launch for 3DS in Japan on November 27 for 5,980 yen (6,458 yen with tax), this week's Famitsu reveals.
First-print run copies of the game will include an original soundtrack CD containing the game's theme song and other selections.
Outside of release information, Famitsu also has details on a new cooking system, character, and trading.
With the new cooking system, players can use ingredients collected from defeated monsters and gathering points to make over 70 types of woodland cuisine. You can sell your cookery in the city to earn money, and use that money to develop the town.
The new character is named Regina. Voiced by Yu Kobayashi, she is the cabinet minister's granddaughter and an artisan chef.
As for trading, it's possible to trade Grimoires for other items through the in-game shop. Street Pass exchanges with other players are also possible. And there is a recycle feature to exchange unwanted Grimoires, as well.
Thanks, Re: Zaregoto.