The Last Guardian probably won't be at TGS
Sony still mum on whether or not it's a PlayStation 4 game.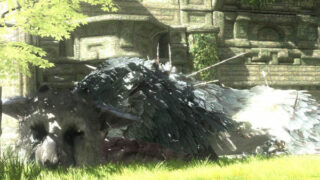 The Last Guardian probably won't show up at the Tokyo Game Show, according to Sony Worldwide Studios boss Shuhei Yoshida.
Asked at Gamescom if we'll see the game's return in Tokyo next month, Yoshida told Eurogamer, "I don't think so. Sorry."
When will we see it, then?
"When we are ready," Yoshida said. "I cannot confirm any timing because we are waiting for it to be in a state where we are happy that this is the game. We have a certain time frame in our mind, and the team is making great progress, but still not to the point that we can say that, here you go."
According to Yoshida, the game faced a number of technical issues on PlayStation 3. "It worked to some extent, that's why we had a date in mind," he said, referencing the game's once planned holiday 2011 release.
"That was a mistake," Yoshida admitted, "but at one time it was looking possible. It has been totally re-engineered. They're still working on it. I've been seeing the progress."
But is it still a PlayStation 3 game? Or has it made the jump to PlayStation 4? The latter is most likely, but Yoshida wouldn't say.