Judas Code Japanese release date set
Free-to-play dramatic battlefield RPG set for late Auust.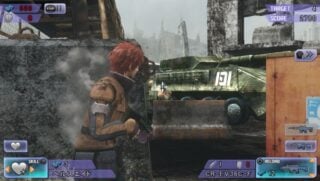 Judas Code, tri-Ace's free-to-play PS Vita dramatic battlefield RPG (with micro-transactions), will launch via the PlayStation Store in Japan on August 21, the developer announced.
The game is set in 20XX and begins when a mysterious pillar from space collides with Earth during World War III. People have called it the "Tree of Calamity," or "Longinus." It devastated civilization and continues to erode the planet. From Longinus, "Branches of Calamity" began to separate, protruding as spears from the ground. While the world is never to regain its previous order, three new powers have arisen–the Ruaju Republic, GAS, and the Balga Commonwealth–and now the new mankind of Regenerators.
Gameplay is part gun action and part card battle. In "Story Mode," players can repeat missions to train their characters and cards, as well as enjoy the game's world and scenario. In "Grand Card Battle Mode," players can compete and cooperate in eight-versus-eight card battles. During gun action parts, players will take cover behind obstacles and attack with guns and grenades. There are over 70 types of basic weapons, including assault rifles, sub machine guns, handguns, and rocket launchers, as well as over 30 types of skills, including grenades and aerial bombing.
View a new set of screenshots at the gallery.