Halo 5 multiplayer beta begins December 29
Plus, more Halo news from Gamescom 2014.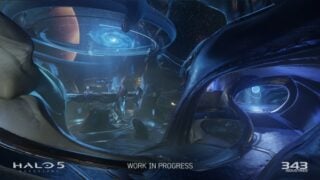 The Halo 5: Guardians Xbox One beta will run from December 29 through January 18 for a period of three weeks, Microsoft announced during its Gamescom press conference.
The news is just one tidbit from the briefing's Halo segment, which also included the announcement of the Halo Channel app and new Halo: The Master Chief Collection details.
Halo Channel
A new interactive digital network that provides personalized access to the Halo universe. It enables you to seamlessly transition between Halo games and other Halo experiences, and features full Twitch integration to broacast your gameplay or watch community live streams, from multiplayer matches to walkthroughs and speed runs.
Halo: The Master Chief Collection
The fourth re-imagined map set to appear in Halo: The Master Chief Collection is Halo 2's "Sanctuary." View screenshots of the map at the gallery.
Additionally, the ranking system that will be used across the collection's online multiplayer will be that of Halo 2.
Watch videos of the "Sanctuary" and "Delta" maps below.
Sanctuary
Delta
Halo 5: Guardians
Watch a 'first look' video for the Halo 5 beta below. View a new set of screenshots at the gallery.