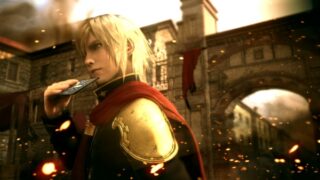 Square Enix is showing the first gameplay footage of Final Fantasy Type-0 HD at PAX Prime in Seattle this weekend, and IGN got a first look at the 20-minute demo.
IGN's preview doesn't actually share many new details, unfortunately. But it does reveal that the game is 80 percent complete, and that while it won't look as good as Final Fantasy XV visually, it "looked good and ran super smoothly."
The outlet also quizzed director Hajime Tabata on the lack of a PS Vita version, but said he kept circling the question around to the excitement of finally being able to play the game on the big screen and on new hardware.
Read IGN's full preview here. Again, if you know anything about the PSP version, there's nothing new here. But hopefully the fact that it's at PAX means we'll get new screenshots and video this weekend.