Yokai Watch 2 Nintendo Direct set for July 4
The latest scoop on the 3DS sequel a week before launch.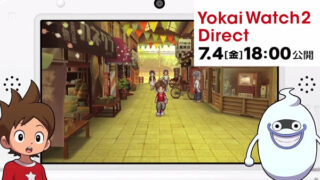 Nintendo will host a Yokai Watch 2-based Nintendo Direct on July 4 at 18:00 Japan time, an advance notice video reveals.
The Level-5-made 3DS sequel is due out in Japan in two versions—Ganso and Honke—next Thursday, July 10. Famitsu reviewed the game this week a 36 out of 40.
Watch the advance notice video below.
https://www.youtube.com/watch?v=yR69SDb8lMc