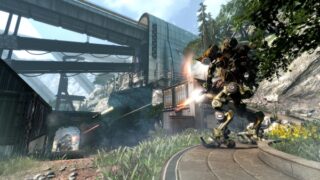 Earlier this week, Respawn Entertainment detailed Dig Site, one of three new maps included in its upcoming Titanfall 'Frontier's Edge' add-on. Today, the developer shared first details and screenshots of the second map, Export.
Find the description below.
The nearby mines fueled this large Militia settlement, an important exporting hub built on the side of a mountain that recalls the gold rush boom-towns from centuries earlier. Overshadowed by a massive armature that controls an offshore lock system for marine transport, Export caters to close-quarter, house-to-house combat for ground troops.

Pilots use this to their advantage by using quick wall-hops on the close structures to gain speed and height, then engage enemies from the low rooftops. Titans can lock down sections of the town by leveraging natural choke points, and often fight up a steep incline that leads to a commanding view of the town below.
View the screenshots at the gallery.