Oculus VR showing Sword Art Online demo at Anime Expo
Experience Sword Art Online the way it's meant to be.
Oculus is demonstrating its Rift virtual reality headset at Anime Expo in the most sensible way possible—with a demo of Sword Art Online.
In the South Exhibition Hall lobby of the Los Angeles Convention Center, you'll find two demos made by Bandai Namco Games. The first demo is of a boss fight alongside Asuna against what looks to be The Gleam Eyes, while the second demo lets you lay together with Asuna and access the game's pop-up menu screen.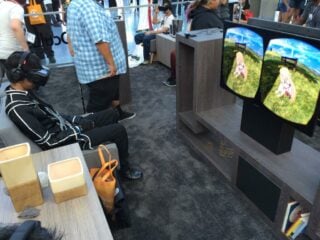 It is unknown at this moment whether this is just a demo made for the show, or for an upcoming game. We've contacted Bandai Namco and Oculus VR for comment.
See the demo in action below, via YouTube user The_Con_Fluence Covers.
And below is a Vine posted on Oculus' official Twitter.
Images via @kawauso3.