EA announces EA Access subscription service for Xbox One
Get access to EA games and discounts for $30 a year.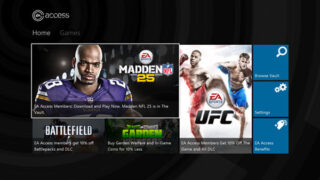 Electronic Arts has announced EA Access, a new subscription service for Xbox One that will give users access to games and discounts for a monthly subscription fee.
The service starts at $4.99 a month (or $29.99 a year) and is being rolled out in beta to a limited number of players today, but will launch "very soon."
The beta period will give users unlimited access to FIFA 14, Madden NFL 25, Peggle 2, and Battlefield 4, with more titles to be added "soon."
Additionally, users will save 10 percent on digital purchases of EA content through the Xbox One games store. You'll also gain access to trials of new EA games up to five days before the release date, starting with Madden NFL 15, NHL 15, FIFA 15, NBA Live 15, and Dragon Age: Inquisition.