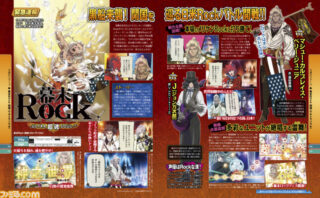 Bakamatsu Rock is coming to PS Vita as Bakamatsu Rock: Ultra Soul, this week's Famitsu reveals.
The enhanced edition of the Marvelous rhythm and adventure game includes new features, such as Perry Junior appearing as an enemy, as well as an upgraded system to enliven the game's Voice Arte battles.
First-print copies of the game will include the drama CD Bakamatsu Rock Zekkyou! Nekkyou! Senkyo Battle.
Additionally, a limited edition Bakumatsu Rock: Ultra Soul "Ultra Soul Box" will include the original video animation Steam Mystery! Hot Springs Mystery Case!!, with first-print copies including a priority application for a ticket to the Bakumatsu live event "Bakumatsu Rock Ultra Ecstasy Live."
Bakamatsu Rock: Ultra Soul will launch for PS Vita, as well as PSP, on September 25 in Japan.
(Additional information via Games Talk.)