Resogun update out tomorrow: ship editor, local co-op, more
'Heroes' add-on still to be dated.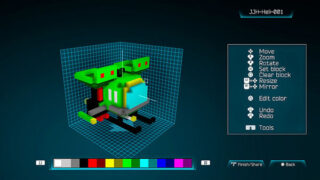 Housemarque will release its big Resogun update promised earlier this month on PlayStation 4 tomorrow.
The update includes:
Ship Editor – Design your own ship from the ground up using a detailed voxel editor. Position the afterburners and weapons, set your own attributes to govern the ships agility, boost and overdrive, and choose either of the standard weapon sets for your ride. Share and download ships from your friends, rivals and the community at large, and try out new ships to see what gives you the edge on the leaderboards.
Local Co-Op – Another much-requested feature is local co-op; the good folks at Housemarque have heard you, and they've added that to the expansion too.
More Trophies – This is another great reason to come back to the game and improve your score. Again, these have been designed to make you play with the new additions to the game.
Hall of Fame – We didn't want players' superhuman efforts to be forgotten, so we've added a Hall of Fame Leaderboard to immortalize the original Resogun Heroes. All scores in the Main Hero difficulty leaderboard will be forever displayed here to show future generations the level of skill (and in some cases sneakiness) that was shown by our community in the early months of Resogun.
A release date for the 'Heroes' expansion has not yet been announced.