Let It Die is a free-to-play title, Suda 51 reveals
Kill player data enemies to take their weapons and clothes.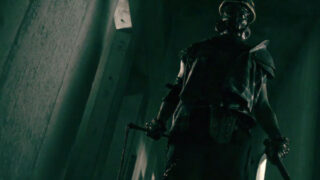 Let It Die, Grasshopper Manufacture and GungHo Online Entertainment's PlayStation 4 exclusive announced at Sony's E3 media briefing, is a free-to-play title, it's been revealed.
The game, due out in 2015, stars you, the player, rather than a character with a story. You'll be able to "spec your player," according to Destructoid, as you try to kill enemies, which are other player data, rather than AI, to take their weapons and clothes.
It's a PlayStation 4-only game because of its technical ability to leverage player data and an existing working relationship with Sony. The strengths of GungHo enabled for them to test this concept.
Goichi "Suda 51" Suda is serving as the game's executive director, but says he is "much closer to the team" than he was in past executive director roles.
The skateboarding Grim Reaper shown in the trailer will be a "really big part" of the game, according to Suda. There will be different weapon types, more than just melee—guns, too. Combat isn't combo-based, but more brutal and quick.
Let It Die is due out in 2015.