First look at Phantasy Star Nova in nine months
PS Vita Phantasy Star game due out this year in Japan.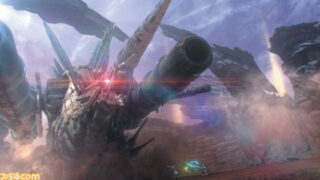 Famitsu has gone up with its latest online preview for Phantasy Star Nova, elaborating a bit more on what was shared earlier this week.
The game is set on Planet Machia, a world where the "Photon" energy cannot be used. Since there is no outlet to recover energy or develop weapons and armor, players must survive on their own terms, unlocking the secrets of Machia along the way.
The story begins when the interplanetary cruise fleet known as "Oracle" assembles the Arks Special Planetory Exploration Team to investigate a star region the ship cannot directly warp to. The group, known as "Alter," and their ship, the "Delta Variant," comes under fire after they're mysteriously attacked by Planet Machia, and end up making an emergency landing on the planet's surface.
You'll fight alongside various races and classes. Famitsu's preview introduces two characters, Lutia (human female, Force class, voiced by Maaya Uchida) and Seil (human male, Hunter class, voiced by Yoshitsugu Matsuoka).
Roaming Planet Machia are giant beasts called "Gigantes." Their bodies are covered in strong armor and dangerous weapons of all sorts, proving a massive threat.
Phantasy Star Nova is due out for PS Vita this year in Japan.