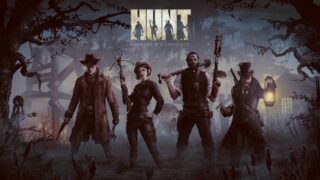 Crytek has announced Hunt: Horrors of the Gilded Age, a third-person action multiplayer game, for consoles and PC.
In Hunt, four players will come together to fend off an onslaught of bloodthirsty creatures and track down bosses. It is the debut title from Crytek USA, which was formed largely of former Vigil Games employees.
The game is set in the late 1800s, and depicts a world where myths and folklore "point to the terrifying truth about evil lurking just beyond the fringes of day-to-day life," and players become the hunters risking their lives to face the creatures that have overrun it.
A content generation system will ensure players "never" encounter the same exact environment or set of enemies twice.
A closed beta for Hunt will first launch for PC this year. Interested players can sign up at the official website. The game will be shown at E3 next week.
Watch the debut trailer below.