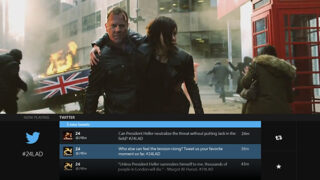 Microsoft has confirmed more than 45 new entertainment applications coming to Xbox One and Xbox 360 by the end of the holiday season.
The list includes Twitter integration, Vine, HBO GO, ShowTime Anytime, Comedy Central, and Major League Gaming.
Find the full list of apps below, with more details here.
Antena 3. Xbox One: ES
ChiliTV. Xbox One: IT
Comedy Central. Xbox One: US
Crunchyroll. Xbox One: AU, AT, BR, CA, DE, ES, FR, IE, IT, MX, NZ, UK, US
ENCORE Play. Xbox One: US
EPIX. Xbox One: US
Filmbox Live. Xbox 360: AR, AU, AT, BE, BR, CA, CL, CO, CZ, DK, FI, FR, DE, GR, HK, HU, IN, IE, IL, IT, JP, MX, NL, NZ, NO, PL, PT, RU, SA, SG, SK, ZA, KR, ES, SE, CH, TW, TR, AE, UK, US
Fox Play. Xbox One: MX, BR. Xbox 360: MX, BR, AR, CO, CH
Frightflix. Xbox One: US
FXNOW. Xbox 360: US
Gol TV. Xbox One: ES
GoPro. Xbox One: US, CA, MX, UK, FR, DE, IT, ES, AU, BR, AT, NZ, IR
HBO GO. Xbox One: US: Xbox 360: MX, BR, AR, CO, CH
iHeartRadio. Xbox One: US
Infinity. Xbox One: IT
IVI. Xbox 360: RU
KDrama. Xbox One: AU, AT, BR, CA, DE, ES, FR, IE, IT, MX, NZ, UK, US. Xbox 360: AR, AU, AT, BE, BR, CA, CL, CO, CZ, DK, FI, FR, DE, GR, HK, HU, IN, IE, IL, IT, MX, NL, NZ, NO, PL, PT, RU, SA, SG, SK, ZA, ES, SE, CH, TW, TR, AE, UK, US
maxdome. Xbox One: AT, DE
MLG. Xbox One: US, UK, CA, AU
MOVIEPLEX Play. Xbox One: US
MTV. Xbox One: US
NBA. Xbox One: AT, AU, BR, CA, FR, DE, IE, IT, MX, ES, NZ, UK, US
NHL. Xbox One: US, CA, MX, UK, FR, DE, IT, ES, AU, BR, AT, NZ, IR. Xbox 360: US, CA, MX, UK, FR, DE, IT, ES, JP, AU, BR, NL, SE, RU, TW, PL, IN, HK, TR, BE, AT, NZ, SA, AR, NO, CH, SG, ZA, IR, DK, CO, CL, FI, CZ, HU, IL, GR, PT, SK
Now TV. Xbox One: UK
Picturebox. Xbox 360: UK
Popcornflix. Xbox One: US
ShowTime Anytime. Xbox 360: US
Sky News. Xbox One: UK, IE, US, CA. Xbox 360: UK, IE, US, CA
Sky Online. Xbox One: IT
STARZ Play. Xbox One: US
STV. Xbox 360: UK
Syfy Now. Xbox One: US
Target Ticket. Xbox One: US
TuneIn. Xbox One: US, CA, MX, UK, FR, DE, IT, ES, AU, BR, AT, NZ, IR
TV2. Xbox 360: DK
Twitter. Xbox One: US
USA Now. Xbox One: US
VEO. Xbox One: MX. Xbox 360: MX
Vevo. Xbox One: CA, US, AU, FR, DE, IR, BR,ES, IT, UK, NZ
VH1. Xbox One: US
Vine. Xbox One: US
WATCH ABC. Xbox 360: US
WATCH Disney Channel. Xbox 360: US
WATCH Disney Junior. Xbox 360: US
WATCH Disney XD. Xbox 360: US
Watchever. Xbox One: DE