12 minutes of Freedom Wars gameplay, screenshots
PS Vita action RPG out tomorrow in Japan.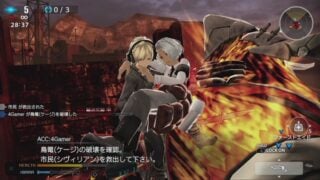 With Freedom Wars just hours away from release in Japan, 4Gamer.net has gone up with 12 minutes of gameplay footage from the upcoming PS Vita game.
The action game is set in the not-too-distant future, where atmospheric pollution has devastated the earth and resources have become scarce. Harsh communities known as Panopticons have been formed in order survive, and battle to secure the earth's little available resources. Players are born into a prison sentence, and must rescue civilians in possession of valuable rival Panopticon knowledge in order to reduce their sentence and earn freedom.
Watch the footage below. View a new set of screenshots at the gallery.