Rumor: SCE Japan Studio and FromSoftware developing Project Beast for PlayStation 4
Hidetaka Miyazaki's new project?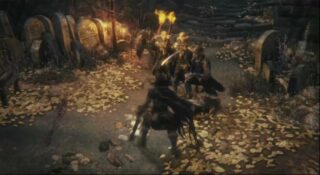 Sony Computer Entertainment Japan has been long rumored to be working on a new project with Dark Souls developer FromSoftware. And it might have just leaked.
Images of something called "Project Beast" were posted on 4chan today. NeoGAF picked up on the post, and user JPS Kai followed up with an additional three images.
Details from the 4chan post describe a character walking around and fighting enemies. A "giant mindflayer type" enemy is said to appear, as well as a character placing shining magic into a pedestal at the base of a statue. Then, a "huge pyromancy fireball," "shotguns," and the text, "This is a nightmare."
Demonnite, a Sony employee on NeoGAF known for his teases, teased a Demon's Souls followup in the past. "It will be a whole different beast," he said in January.
"TGS will be a beast of a show," he said in June, implying the game was originally scheduled for a Tokyo Game Show debut.
"If you put it that way, there are 2 beasts then," he said in response to a fan claiming The Last Guardian would be a "beast."
Of course, consider this a rumor until confirmed.