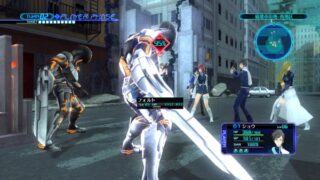 FuRyu and Lancarse have announced pre-order bonuses for upcoming PlayStation 3 and PS Vita RPG Lost Dimension in Japan.
In addition to a "White Hero" costume for the protagonist and an additional "Prelude to the Collapse" quest, you'll get the following bonuses depending on retailer:
Geo – The "The Friendly Bonds Box," which includes two "Evidence of Friendship" items, one "Mind Stability Set B," and one additional quest "Messenger from the Underworld."
Game Tsutaya and WonderGoo – The "Battle Capture Box," which includes one "Party Level Up" item, one "Gift Exp +2," and three "Mind Control" items.
Animate, Imajin Magical, Kojima, Joshin, Sofmap, Biccamera, Furu1, Yamada Denki, Yodobashi Camera, and Game City – The "Judge Counter-Plan Box," which includes four "Obligated Voting Right" items, and one "Vision Point +4."
Amazon Japan – The "Good Luck Goddess Box," which includes thre "EN Rising," three "Gift Exp Rising," and one "Medical Set B."
Lost Dimension will launch on August 7.
View images of the pre-order bonuses at the gallery.