Killzone: Shadow Fall getting online co-op add-on in June
'Intercept' add-on introduces four-man Intelligence Squad Alpha.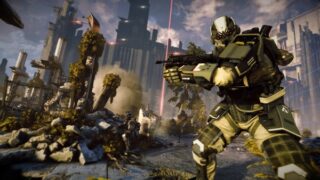 Killzone: Shadow Fall is getting a new four-player co-op mode called 'Intercept' in June, Sony and Guerrilla Games announced.
The add-on places you and up to three friends on the elite VSA team known as "Intelligence Squad Alpha." Your mission is to intercept and relay Helghast military transmissions back to VSA headquarters while operating behind enemy lines.
Intelligence Squad Alpha consists of four members—an Assault, a Marksman, a Medic, and a Tactician—who must work together to establish a Hacking Upllink and transmit intel back to headquarters. Your score indicates how close you are to establishing an uplink, and can be increased by defending your Uplinks from Helghast capture attempts.
AI-controlled Helghast enemies will have their own sets of goals and Combat Roles, as well, and will switch up tactics and angles of attack when they capture an Uplink. The enemy can also call on special Helghast "champions" with unique abilities that are based on key characters from the single-player campaign.
The 'Intercept' add-on will be available free for Season Pass holders and at a cost for those without. A standalone version of the co-op mode will be released later this year.
View a set of screenshots at the gallery.