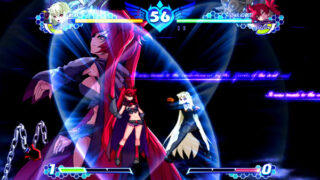 Following an Amazon leak earlier today, Aksys Games has confirmed it's bringing Arcana Heart 3: Love Max!!!!! to PlayStation 3 and PS Vita in North America this fall.
Find full details on the fighter below.
Openly Express Your Love to the Max via Online Versus and Spectator Modes!!!!!


Our ranking system will help to ensure that you're hooked up with people of an appropriate skill level. Jump into an online lobby with five other players (six total) to bash the cute out of each other (or at least attempt to!).

Voluminous Story Content!!!!!
Follow the 23 angels through a massive amount of hidden scenarios (over 300!) that depict the (mostly) pleasant daily lives of our delightful heroines. There also may or may not be hot springs episodes for each of the characters with steamy pics included! You know, maybe!

Excruciatingly Cute, Craftily Created Characters!!!!!
You want super stealthy, diminutive, speedy ninjas who vanish to confuse foes!? We got em'! Do you specifically require a rollerblading bat-winged beauty, or a brash giant robot-piloting bunny girl!? We listened! Our fighters (23 total!) come in a wide range of battling builds, each with unique techniques to dole out the punishment! For further customization, feel free to deck out your favorite fighter in 1 of 19 color schemes!

Characters can be combined with 23 various arcana (celestial beings) who give players more freedom in how their favorites fight (a total of 529 different combinations!). Arcana alter things like power, defense, and how quickly your power bar recharges. They can also do things such as provide healing, reflect ranged attacks, provide the power of flight, and so much more!

Massive Tension Generation!!!!!
Dost thou dare challenge Ragnarok, the overly powerful, super-sized mega boss, whose laser beams block out the sun!? I sure wouldn't! Leap onto his shoulders if you're feeling especially brave!

Artistically Adventurous!!!!!
The past and present are thrown together, pixels and polygons! Each of the 23 playable characters has been lovingly handcrafted with pixels for a satisfying infusion of nostalgia. Backgrounds are modeled with polygons, and significant graphical changes occur when players utilize their "Extend Force" move which allows them to move faster and extend their combo potential!

Xtra Goodies!!!!!

For the particularly masochistic, time-attack mode throws players head first into ten tough fights. A special gold-colored enemy awaits them at the end (we call her "gold gal").
Replays can be saved, viewed, and even received from other players. Share your loveliest victories with friends (or enemies!?).
Trial mode puts players through their paces as they plunge into a brutal string of ten fights with 90 possible different mission objectives.
Gallery mode can hardly contain all the content you're going to unlock! There are illustrations aplenty, and "link animations" will bombard you with a level of cuteness the world has never seen.

("Link animations" are the animations on the sides of the screen that display your character's reactions.)

Players can experience the joy of hearing the original Japanese audio while reading the text in English.
60 silky frames per second, so you don't miss any of the action!
No matter how gigantic the bosses or special attacks, the dynamic camera system keeps the intense action on screen!