PS4 virtual reality headset Project Morpheus unveiled
GDC attendees can go heads-on with the headset tomorrow.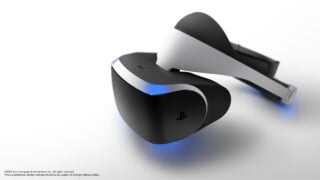 Sony confirmed 'Project Morhpeus,' its long-rumored PlayStation 4 virtual reality headset, durings its "Driving the Future of Innovation" panel at GDC.
"Many of us at PlayStation have dreamed about VR and what it could mean for the games that we create," Sony Worldwide Studios boss Shuhei Yoshida said.
Sony has been working with virtual reality for at least four years, Yoshida revealed. Slides shown during the panel show Yoshida testing prototypes in fall 2010 and March 2011. He also showed God of War III running in a head-mounted display first-person view mode via the a prototype headset from years back.
According to Sony R&D head Dr. Richard Marks, PlayStation 4 virtual reality "is going to be pervasive, and what I mean by that is it's going to be used for all sorts of things you might not think it would be used for."
For example, he has been working with NASA's Jet Propulsion Laboratory to create a Mars demo that lets you feel as if you're actually standing on the surface of the planet.
Virtual reality comprises of six main challenges, Dr. Marks said. Sight, sound, tracking, control, ease of use, and content. And that content has big names backing it, including Unity, Havok, Wwise, Gigantic, Autodesk and Autodesk Gameware Scaleform, DDD, Criware, Epic Games, Silicon Studio, Bitsquid, Crytek, and FMod.
But games are only one type of content virtual reality can provide, Sony R&D software engineer Anton Mikhailov said. As demonstrated by the Mars demo, virtual reality can be used for virtual tourism and media, "but games are still the best," he said.
Virtual reality amplifies emotion sensory block-out, and can emulate feelings of vertigo, claustrophobia, fear of the dark or unknown, fear of voids and empty spaces, extreme and intense horror, and creature phobias.
"Emotion in virtual reality is amplified," Mikhailov said. "You have a lot of new emotions to play with as developers."
Morpheus will work with PlayStation Move, PlayStation Eye, and PlayStation 4. It's not a final product, but a work-in-progress. The current dev kit runs at 1080p with a 90+ degree field of view, and supports position and rotation head tracking (1000hz, 3 meter working volume, full 360 degrees), forward prediction, and DualShock 4 and PlayStation Move with the same camera. It promises true spatial sound, and supports custom headphones. You can use it with glasses, too.
GDC attendees will be able to go heads-on with it starting tomorrow, with demos including The Deep, The Castle, EVE Valkyrie, and Thief. Yoshida said GDC was chosen as the headset's unveil venue because Sony is seeking feedback from developers.
Find some specs below.
Configuration: processor unit, head-mounted unit
Display method: LCD
Panel size: 5 inches
Panel resolution: 1920xRGBx1080
Field of view: 90 degrees
Sensors: accelerometer, gyroscope
Connection interface: HDMI + USB
Function: 3D audio, social screen
Q&A
Mikhailov held a post-panel Q&A following the headset's reveal. Unless in quotes, these aren't direct quotes from Mikhailov, but summaries of his responses.
When will the unit launch?
"As soon as possible."
Is it wired?
The current prototype uses a five meter wire. Obviously, Sony is seeking a wireless solution.
What frame rate will you get, and what latency?
The highest frame rate and the lowest latency.
Will it also work on PC?
Sony is currently focusing on Project Morhpeus as a PlayStation 4 product.
Would it ever be standalone without PlayStation?
No.
How many units do you plan people have?
Right now, it's one per PlayStation 4.
Are you looking into eye-tracking?
Yes.
Will there be mobile connectivity with PS Vita?
Right now, Sony is currently focused on PlayStation 4.
Why is it called Project Morpheus?
"Well… we decided on the name last week (laughs). It was decided because Morpheus is the god of dreams… not a Matrix reference."
You can put your hands in the game with PlayStation Move. But what about your feet?
"We're researching… it depends on what you're trying to accomplish."
Thanks, Road to VR, Engadget, and Eurogamer.