Project Cars will support Project Morpheus on PS4
Experience "everything" through the driver's eyes.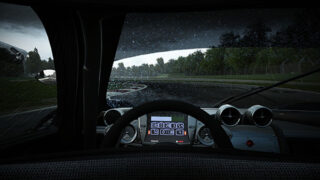 Project Cars, Slightly Mad Studios' upcoming racer for PlayStation 4, Xbox One, Wii U, and PC, will support Project Morpheus, Sony's virtual reality headset, on PlayStation 4, the studio announced.
"Building upon all the techniques and features we've pioneered in our previous games to simulate a sensation of speed, distance perception, changing focal points, and physically-accurate cockpit and helmet views, we're proud to announce today that Project Cars will be supporting Project Morpheus giving players a totally fresh and exhilarating new perspective on what it feels like to sit in the cockpit of a high-performance machine screaming around a beautiful location," the studio said in a blog post.
Project Morpheus will enable players to look around the cockpit and "see everything" from a first-person perspective, and move around the cockpit using head-tracking to peer closer at a car's intricate detail, or to look out of the back window.
"Virtual reality and Project Morpheus are going to allow you to experience every start light, every corner, every finish line now through the driver's eyes like never before," the studio said.