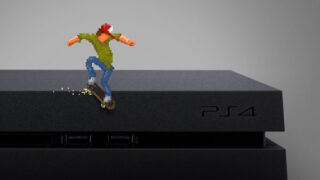 OlliOlli, Roll7's hit skateboarding game for PS Vita, is coming to PlayStation 4 and PlayStation 3, the developer announced.
Earlier this month, the developer also confirmed the game is on the way for PC, Mac, and Linux.
The studio is partnering with the Barcelona-based BlitWorks to bring the game to the PlayStation TV screens.
"We already have a first playable version up and running on PS4 and a big screen," said Roll7's Simon Bennett on the PlayStation Blog. "It's like our little OlliOlli grew up and got some balls! Really feels amazing on DualShock, too."
A release date was not announced, but the game "will remain a PS Vita exclusive until summer 2014," suggesting the PS4, PS3, PC, Mac, and Linux editions will launch sometime around then.
In related news, Roll7 is "very close to fixing the crash bug that some players are experiencing." The patch will be released in an update "that should put a smile on people's faces."