MLB 14: The Show set for May 6 on PlayStation 4
PS4 version arrives a month after PS3 and PS Vita versions.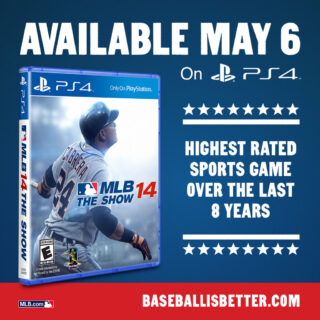 The PlayStation 4 version of MLB 14: The Show will launch on May 16, the official PlayStation Twitter account confirmed.
The game was previously dated for April 1 on PlayStation 3 and PS Vita. Compared to its previous gen and handheld versions, the PlayStation 4 version of the baseball game will run in 1080p at 60 frames per second, features 1,000 different crwod models, each with over 10,000 polygons, and stadiums built with over one million polygons.