Costume Quest 2 announced for consoles and PC
Protect Halloween from horrors and grown-ups once again.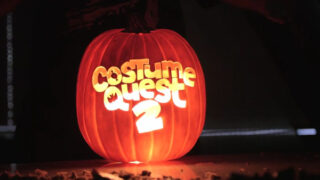 Costume Quest 2 is in development for PC and consoles, Double Fine Productions and publisher Midnight City announced.
Double Fine's first ever sequel, the game returns to Auburn Pines, and sees Wren and Reynold once again protect Halloween from "untold horrors and grown-ups." The trick-or-treaters will be equipped with new costumes, transforming them into giant warriors, an upgraded battle system, and a story that is "unmistakably Double Fine."
"For the last couple of years, whenever Halloween came around, I felt like something was missing," said Double Fine Productions creative director Tim Shafer. "No matter how many pumpkins I carved, apples I bobbed, or candy I ate, it just couldn't fill the big spooky hole inside of me. But then I realized what was missing: I needed more Costume Quest. And also, I really wanted a T-Shirt with glowing skulls on it."
Specific platforms were not announced. Watch the debut trailer below.