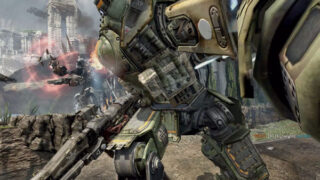 The Titanfall closed beta will begin on February 14, Electronic Arts and Respawn Entertainment announced.
If you missed our earlier post, beta sign-ups are now available for Xbox One and PC users at the Titanfall official website.
The beta will include three game modes. They are:
Attrition – teams win by eliminating anyone or anything on the opposing side – pilots, titans and AI soldiers.
Hardpoint Domination – teams will capture and hold three hardpoints throughout the map to earn points and secure victory.
Last Titan Standing – everyone on both teams starts with a titan in a round-based mode that ends when one team has lost all of their titans. There's no respawning and no replacement titans can be called down.
The full game is due out for Xbox One and PC on March 11 in North America and March 13 in Europe, and for Xbox 360 on March 25 and March 28.
Watch the beta sizzle trailer below.