Rumor: Dino Crisis reboot to be announced this year
Capcom bringing back its dinosaur survival series?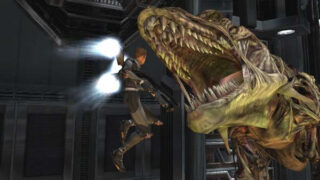 Capcom is working on a reboot of Dino Crisis to be announced later this year, according to a rumor in the latest issue of Official Xbox Magazine UK.
The rumor contradicts an earlier statement from Resident Evil: Revelations producer Masachika Kawata.
Asked if Capcom is likely to revive the Dino Crisis or Onimusha series, he said, "Capcom has obviously never shied away from bringing back our older IPs to new generations, but I do think it's more important for us to focus on creating new IP as we move forward."
The dinosaur-based survival horror game series first launched for the original PlayStation in 1999. It spawned two sequels—the latest released on the original Xbox in 2003—and a PlayStation 2 first-person shooter spin-off.
Thanks, Eurogamer.