Rise of Mana announced for smartphones
The next Seiken Densetsu game is on the way.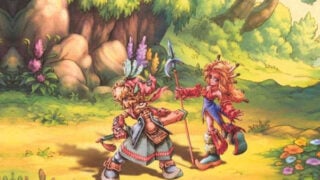 Seiken Densetsu: Rise of Mana is in development for iOS and Android, Square Enix revealed in this week's Famitsu.
The game will be free-to-play with micro-transactions for items. The hero is an angel and devil absorbed into a single body, who fell to the ground from the heavens.
A new system will allow you to switch between angel and demon as necessary during gameplay. The game supports up to eight players in multiplayer.
The game's base is a town called "Miste," where you can buy items and weapons, make use of support services, and train your demon pet. Your base weapons are the sword, spear, and bow.
A release date was not announced.
Thanks, Sinobi.