Early Senran Kagura 2 buyers get a four-disc soundtrack set
And another look at the limited edition's five figure CD.
First-print copies of SEnran Kagura 2: Deep Crimson will include the four-disc "Senran Kagura Original Soundtrack CD Portrait / Crimson / Deep Crimson," which features music from Senran Kagura: Portrait Girls, Senran Kagura Burst: Crimson Girls, and Senran Kagura 2: Deep Crimson.
The game can be pre-ordered in both standard and limited editions. The limited edition includes a copy of the game, special packaging, a Nan Yaegashi-drawn box, Niitengo (Toy Works Collection) Homura Crimson Squad five figure set, drama CD featuring an original story, and the opening theme song "Hikari to Yami no Kanata" Hanzo Academy Solo Version and arrange soundtrack CD.
Have a look at the figure set below.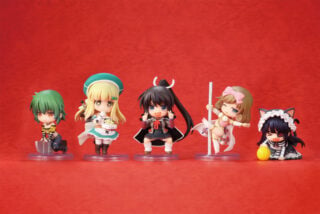 Senran Kagura 2: Deep Crimson is due out on August 7 in Japan.