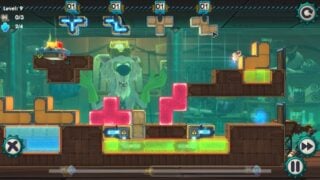 Curve Studios is bringing Crunching Koalas' upcoming PC game MouseCraft to PS Vita in May, the studio announced.
MouseCraft is a fast-paced puzzle game that "mashes up some of the most familiar mechanics in the genre." According to Curve, "if Lemmings and Tetris had a baby, MouseCraft would probably be really good friends with that baby."
The goal is to lead a group of mice through a machine to find the cheese at the other end of the level. Players won't control the mice directly, but rather control their environment through the use of different "Tetromino" blocks that can be dropped onto the level. The full campaign will feature over 50 levels, and the game also has leaderboards, collectibles, a ranking system, and a level editor.
The PC and PS Vita versions of MouseCraft will be "identical in terms of gameplay/graphics/and features," and will be released alongside each other.
Curve also intends to bring the game to PlayStation 4 in the summer, but it's still ironing out some of the "finer details."
View some screenshots at the gallery.