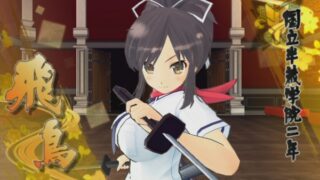 Update: Each game has been officially announced: Senran Kagura 2: Deep Crimson, Dekamori Senran Kagura, and Senran Kagura: Estival Versus.
Original: Three new Senran Kagura projects are in development, this week's Famitsu reveals.
The first game is Senran Kagura 2: Deep Crimson for 3DS. Developed by Tamsoft and due out August 7 in Japan for 6,998 yen, it is a side-scrolling action game with 3D field boss battles. An existing male character will be playable.
The second project is Dekamori Senran Kagura, a "hyper big breasts cooking rhythm game" for PS Vita where losing means stripping down. Developed by Meteorise and due out March 20 in Japan, the full game will feature 22 songs. The Hanzo Academy and Homura Crimson Squad character set will be available or 2,400 yen. And on April 24, the Death Cram School and Hebijo Clandestine Girls' Academy character set for 2,500 yen. The full set, featuring both sides, will cost 4,083 yen and be available on day one.
And the third game is Senran Kagura: Eestival Versus, a yet to be detailed title for an unannounced Sony platform. Information on this project is still secret, but it appears to be part of the Shinovi Versus genealogy.
Expect the official announcements of these projects tomorrow, January 8, at 13:30 Japan time on Marvelous AQL's Senran Kagura live stream.
Thanks, Game Nyarth.