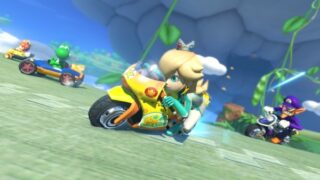 Nintendo outlined its strategy for 2014 during its corporate management policy and third quarter financial results briefing today.
Highlights include a greater focus on the Wii U GamePad, a May release date for Mario Kart 8, and DS titles for the Wii U Virtual Console.
Find our summary below.
Wii U and the GamePad
Nintendo president Satoru Iwata acknowledged Wii U as being "in a very difficult position." From here, Nintendo will focus on "thoroughly enriching" the Wii U's "most significant feature"—the GamePad.
The company has failed to get its message across communicating the GamePad's value, Iwata said. And it hasn't been successful in explaining why consumers should upgrade from Wii from Wii U. In order to do this, Nintendo wants to "offer software titles that are made possible because of the GamePad."
The GamePad has near-field communication (NFC) functionality built-in. Games like Pokemon Rumble U already make use of it. This year, Nintendo aims to make full use of the feature, including the implementation of NFC payments with JR East's "Suica." More detailed propositions for NFC will be shared at E3 2014 in June.
The GamePad can also easily play games without using the TV. But it takes over 20 seconds before a video game can be selected. To solve this, Nintendo is planning a quick start menu for the GamePad in a system update coming "early summer." Here's an idea of how it'll work:
DS Virtual Console on Wii U
The Wii U Virtual Console will add DS software to its lineup in a future update.
Mario Kart 8 and Key Wii U Titles
Mario Kart 8 will launch for globally for Wii U in May 2014. To create larger momentum, Nintendo wants to ensure that the release of titles like this are not "a one-off event."
Specific release dates for other key Nintendo titles will be announced during "other opportunities such as Nintendo Direct."
3DS was the top-selling game device around the world in 2013. Worldwide hardware sales of the system have reached 42.74 million.
Future Platforms and Nintendo Network IDs
Wii U marked the debut of Nintendo Network IDs, and acted as Nintendo's first attempt to "transform customer relationship management from device-based to account-based." Future platforms will also connect consumers based on accounts, rather than devices. 3DS was made compatible with Nintendo Network IDs in December 2013, after being originally designed for a device-based management system.
Smart Devices
Nintendo aims to utilize smart devices to connect consumers.
"Let me emphasize that this does not mean simply supplying Nintendo games on smart devices," Iwata said. "Taking advantage of smart devices means connecting with all consumers, including those who do not own Nintendo's video game systems, through smart devices and communicating the value of our entertainment offerings, thus encouraging more people to participate in Nintendo platforms. I will elaborate on this point later."
Nintendo will launch a new service enabling the company to connect with consumers on a continuous basis via smart devices within this year.
"Accordingly, I have not given any restrictions to the development team, even not ruling out the possibility of making games or using our game characters," Iwata added. "However, if you report that we will release Mario on smart devices, it would be a completely misleading statement."
Licensing Character IP
Nintendo is planning to utilize its abundance of character IP "more actively" by expanding its character licensing business, "including proactively finding appropriate partners." The company has been actively selling character merchandise in the U.S. for about a year, but aims to be more flexible in areas they did not license until now.
Quality of Life
Nintendo has decided to redefine its notion of entertainment as "something that improves people's quality of life in enjoyable ways." The first step in improving the user's quality of life is through the theme of "health."
Here's what Iwata has to say (I'm copying and pasting this because it's too long, too boring, and I'm tired):
We will also take on the challenge of expanding into a new business area.

We will attempt to establish a new platform business with which we can leverage our strengths, but which is independent from our video game platform business.

It will have been 12 years in May this year since I took office as president in 2002. What we have focused on in this decade is our basic strategy to expand the gaming population by offering products which can be enjoyed by everyone regardless of age, gender or gaming experience.

In order to cope with the challenge of consumers' apathy, we adopted a means to extend the definition of video games and thereby focused on expansion of the gaming population as our strategy. I feel that we achieved tangible results with Nintendo DS and Wii.

Ever since I succeeded Mr. Yamauchi as the president of Nintendo, a company specialized in entertainment, I have deliberated on the meaning of entertainment and in this decade,

I have run Nintendo with the belief that the raison d'etre of entertainment is to put smiles on people's faces around the world through products and services.

In addition, as the business environment around us has shifted with the times, I am willing to redefine the meaning of entertainment. As the extension of the definition of video games gave new potential to video games, I think now is the time we need to extend the definition of entertainment.

This time, we decided to redefine our notion of entertainment as something that improves people's quality of life in enjoyable ways, and take a step forward in expanding our business areas. Being an entertainment company, making "enjoyable improvements" is something that Nintendo excels at, and this definition provides us with a clear distinction from simply "improving QOL."

Ever since Nintendo was founded 125 years ago as a manufacturer of Hanafuda, Nintendo has continued to transform itself into offering various propositions to consumers from toys, electronic toys, and then video games, improving, in my view, people's QOL in enjoyable ways.

What Nintendo will try to achieve in the next 10 years is a platform business that improves people's QOL in enjoyable ways.

This definition includes, of course, dedicated video game platforms. While we will continue to devote our energy to dedicated video game platforms, what I see as our first step into a new business area in our endeavor to improve QOL is,

The theme of "health." Of course, defining a new entertainment business that seeks to improve QOL creates various possibilities for the future such as "learning" and "lifestyle," but it is our intention to take "health" as our first step.

Please note, however, that rather than simply setting health as our theme, Nintendo will also try to expand it in a new blue ocean.

It has been a long time since people started to say that the console era has now shifted to a new mobile era, with wearable technology in the spotlight at CES this month.

However, as I said at the beginning of the presentation today, Nintendo is a company that sees the true value of entertainment lies in its individuality. Following others into the exceedingly crowded market of mobile applications or the market of wearable technology that is expected to become increasingly competitive and fighting with brute force is not our way of doing business. Yet again, it is our intention to go into a new blue ocean.

With that said, we wish to achieve an integrated hardware-software platform business that, instead of providing mobile or wearable features, will be characterized by a new area of what we like to call "non-wearable" technology. When we use "health" as the keyword, some may inevitably think about "Wii Fit." However, we are considering themes that we have not incorporated to games for our existing platforms. Including the hardware that will enable such an idea, we will aim to establish a blue ocean.

As we attempt to challenge ourselves with the area of health from a new perspective, we are considering unique approaches by leveraging our strengths. First, I feel that there is strong public awareness for health around the globe.

As those who are already suffering from illness can seek medical care, our new business domain would be providing preventive measures which would require us to enable people to monitor their health and offer them appropriate propositions.

However, what is generally good for health requires some kind of effort to be made by the individual, and, as I am sure that many of you have experienced this, it is sometimes difficult to stay focused and engaged, and it is not uncommon to give up after a few days. This is where our strength as an entertainment company to keep our consumers engaged and entertained comes into play, assisted by the non-wearable feature, which is the biggest differentiator of this new business field, as well as user experiences that integrate into people's daily lives, all of which help us overcome this difficulty. If we do indeed succeed in doing so, we will be able to provide feedback to our consumers on a continual basis, and our approach will be to redefine the notion of health-consciousness, and eventually increase the fit population.

I feel that not only can this QOL-improving platform utilize our know-how and experience about video game platforms but also we can expect it to interact with games and create a synergistic effect.
Nintendo has released a series of games entitled "Touch Generations" that seek to expand the definition of games by releasing games in various fields including health-themed titles such as "Brain Age" and "Wii Fit," or educational titles such as "English Training" and "Art Academy," or lifestyle software such as "Cooking Navigator" (translation of Japanese title, only available in Japan). The know-how and experience we have acquired about entertainment through these games, or to put it differently, the ability to keep consumers engaged and entertained on a continual basis and the hospitality we can offer is something that we can take advantage of now in order to increase the value of our QOL-improving platform.

On the other hand, while we feel that this is going to take two to three years after its launch, we expect the QOL-improving platform to provide us with new themes which we can then turn into games that operate on our future video game platforms, too. Once we have established such a cycle, we will see continuous positive interactions between the two platforms that enable us to make unique propositions.

Through our new endeavors with the QOL-improving platform, we strive to promote our existing strategy of expanding our user base even further.

As all dedicated video game platforms ever since Famicom (Nintendo Entertainment System) in 1983 have continued to expand the gaming population as well as Nintendo's user base, our QOL-improving platform will attempt to create an environment in which we can expand the population of those who are conscious about their health and use that expansion to expand Nintendo's user base.