Demon Gaze release date set
See the first English screenshots and final box art.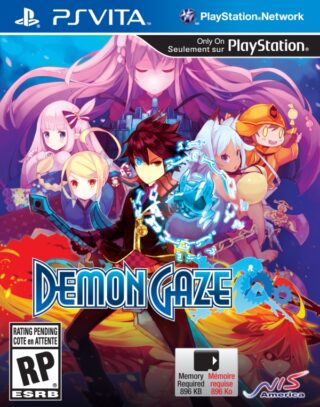 Demon Gaze will launch for PS Vita on April 22 in North America and April 25 in Europe, NIS America announced. The game will be available in retail and digital formats.
A $49.99 limited edition including a "Mercenary's Guide to Misrid," soundtrack CD, and special box will also be released.
NIS America shared the first English screenshots and final box art of the game. View those at the gallery.
Find some details about the game below.
About
Oz awakens to find himself in Misrid—a cursed land at the world's western frontier—with a dark shroud covering his memories of the past. The land before him contains many labyrinths that hold both treasure and danger in equal volumes. Without knowing where else to go or what else to do, Oz decides to take up arms in order to hunt down artifacts and eke out a living in this world that feels so new to him. One day, he will have to face his past, but until then, he has no choice but to trust those around him, and in his newfound abilities as a "Demon Gazer"…

Key Features

Dungeon RPG progress system: Conquer locations within dungeons to access better items and to draw out the boss!
HD character and monster illustrations: Experience highly detailed and illustrated art like you've never seen before on the PS Vita's OLED screen!
Customizable party creation: Choose from over 40 different character portraits, 5 different races, and 8 different classes to create your ideal adventuring party and delve fearlessly into various beautiful 3D dungeons!
Subclass flexibility: Utilize special items to gain skills from several other character classes to maximize your characters' battle potential and survivability!
Touchscreen quicktravel: Employ the use of the PS Vita's touch screen to quickly navigate your character through previously explored areas within dungeons!