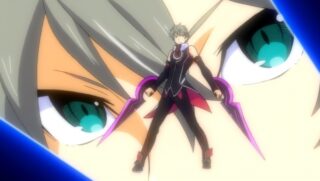 Conception II: Children of the Seven Stars is coming to Europe. Atlus will publish the game throughout the region as a digital-only title on the PS Vita PlayStation Store and 3DS eShop.
Here's a quick synopsis:
In Conception II players are "God's Gift" – a human teenager bestowed with the blessings of the Star God with power levels that are off the charts. His Ether is the only thing in the world that allows him and his fellow classmates to enter and fight the evil contained within Dusk Circles – monster-filled labyrinths that threaten human existence. To aid him in labyrinths, his power allows him to create Star Children. But only by maintaining relationships with the game's heroines will players be able to create an army of better, stronger, faster Star Children with suitable elemental powers. The complex elements of managing relationships are only matched by the intricate combat systems, where positioning, attack chains, and combos are vital for survival.
The European version will launch in Q2 2014. The game is due out in North America at both retail and digitally on April 15.