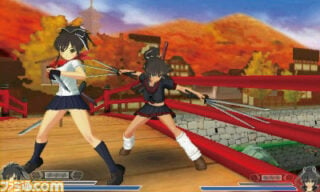 Famitsu.com has gone up with its online previews of Senran Kagura 2: Deep Crimson and Dekamori Senran Kagura, providing new screenshots and details on the upcoming sequel and spin-off. Find both sets compiled below.
Senran Kagura 2: Deep Crimson reconstucts the stories of the previous two games, leading to new developments. The battle stage is set in the vivid ancient city of Kyoto. The game offers remodeled graphics, character models included; support for full stereoscopic play; a new "Pair Battle" system, in which players can instantly switch between two characters depending on the situation, who can pair up to unleash "Joint Secret Ninja Arts" attacks; and co-op play to take down enemies together with a friend.
New characters, such as Kagura and Naraku (pictured together, left and right respectively, below) are set to appear. And if you have save data from Senran Kagura Burst, you can play as Ikaruga's brother Murasame. Otherwise, he'll be available as paid downloadable content.
Dekamori Senran Kagura is a downloadable "big breasts hyper cooking battle" rhythm action game featuring 22 songs for PS Vita. Two lines of ingredients flow across the screen which you chop to the tempo to complete a dish. By pushing the buttons to the rhythm, the cooking steadily becomes larger, completing a decadent dish. Overcome your opponent in a cooking battle by cooking a bigger mountain of food than they do.
Here are some of the game's confirmed songs:
"Futomaki Ninninn"
Song: Asuka (CV: Hitomi Harada)
Lyrics: Kenichiro Takaki
Composition and Arrangement: Mutsumi Ishimura

"Break out of your shell!"
Song: Homura (CV: Eri Kitamura)
Lyrics: Kenichiro Takaki
Composition and Arrangement: Akihi Motoyama

"Puri Puri Prisoner"
Song: Yumi (CV: Yumi Hara)
Lyrics: Kenichiro Takaki
Composition: Mutsumi Ishimura
Arrangement: Eiji Kawai

"Zetsubou no Machiavelli Zam"
Song: Miyabi (CV: Hiromi Hirata)
Lyrics: Kenichiro Takaki
Composition and Arrangement: Akihi Motoyama

"Rasetsu Shuuradou"
Song: Daidoji-senpai (CV: Yu Asakawa)
Lyrics: Kenichiro Takaki
Composition and Arrangement: Akihi Motoyama

"Okakugo Mesareyo Teacher"
Song: Rin (CV: Suzuko Mimori)
Lyrics: Kenichiro Takaki
Composition: Mutsumi Ishimura
Arrangement: Eiji Kawai