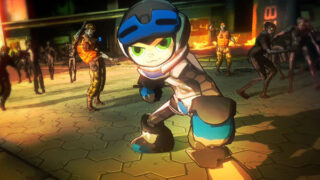 Yaiba: Ninja Gaiden Z will have a retro-style side-scrolling "Ninja Gaiden Z" mode, publisher Tecmo Koei announced today.
The gameplay mode, which is "brought to life through classic 8-bit stylized cut screens and UI," has Yaiba battling through hordes of element-based zombies, mechanized zombies, and other enemies as he racks up more and more points with each kill.
The Ninja Gaiden spin-off will also have at least a couple of downloadable costumes, as well. The most notable is a costume of Beck from Mighty No. 9 in collaboration with Comcept and Keiji Inafune. The Beck costume will be followed by a more generic Camouflage costume.
As Yaiba battles through hordes of zombies, he won't be alone. Tecmo Koei also revealed Miss Monday, an engineer for Forge Industries who brought Yaiba back to life with cybernetic enhancements. She'll be with Yaiba via intercom, making sure all of his cybernetics are working properly.
Yaiba: Ninja Gaiden Z will be available for PlayStation 3, Xbox 360, and PC on March 4 in North America and February 28 in Europe.
Watch some new trailers below. View some screenshots at the gallery.
Class G Trailer
Outbreak #4
Ninja Gaiden Z Mode