Quantum Break experience is half game, half TV show
Play an episode of the game, unlock an episode of the TV show.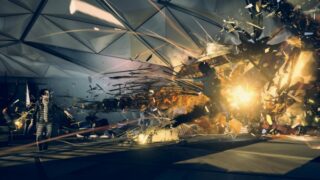 When Remedy Entertainment first announced Quantum Break, it was announced both a new Xbox One game and new TV show property. Today, Remedy franchise development boss Oskari Hakkinen told OXM that all episodes of the live-action show will ship with the game on disc, and are designed to be watched in tandem with the game experience.
"The game and the show are designed to be built as one experience, to be experienced as one package," Hakkinen said. "So you play an episode of the game, then you can unlock an episode of the show, play another episode of the game, and unlock another episode of the show, and so on.
"Without telling too much, you'll be looking at two different sides of the coin from a story perspective. In the game you'll be following the story of one theme, in the show you'll be following the story of another theme. These are meshing together to form the whole experience."
Of course, if you don't want to watch the TV show immediately after unlocking the latest episode, you can watch it later. Or not at all, even.
"Obviously we are not naive to the fact that some people may not necessarily want to watch some linear media when they slot out their gaming time," Hakkinen said. "So once it is unlocked, it's unlocked for you to jump in or experience whenever you then so choose.
"So it could be you catch up on it through your tablet device or your mobile device on the bus to work, and then you get home and you're ready for the next experience."
A release date for Quantum Break has not been announced.