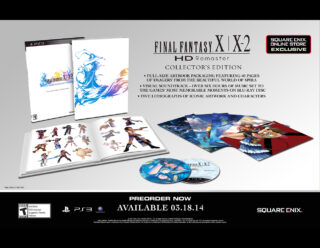 Square Enix has confirmed the PS Vita version of Final Fantasy X | X-2 HD Remaster will launch alongside the PlayStation 3 version on March 18 in North America and March 21 in Europe.
On PS Vita, you'll be able to download a combo pack including Final Fantasy X HD Remaster and Final Fantasy X-2 HD Remaster on the PlayStation Store for $39.99. If you prefer a physical copy, you can purchase Final Fantasy X HD Remaster at retail, which includes a download code for Final Fantasy X-2 HD Remaster.
PlayStation 3 special editions will also be released.
Available exclusively at the Square Enix Online Store for $79.99, the North American collector's edition will include a 40-page art book, visual soundtrack with over six hours of music, and five lithographs of the game's artwork and characters.
The European limited edition includes a 48-page art book. A price was not announced.