Knack co-op, gadgets, and relics detailed
Unlock gadgets for PS4 game through Knack's Quest on iOS.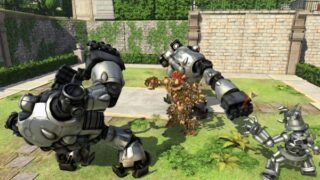 PlayStation 4 launch title Knack has a two-player co-op mode that promises to be an interesting twist on traditional co-op play.
Knack is a single-player character action game meant to be enjoyed by players of all types. But on Hard mode, the game can be challenging. This is where co-op helps. A second player can drop in or out at any time and control a robotic version of Knack. Robo Knack has a similar move-set to Knack, but can donate his parts to Knack and heal him with a tap of the Triangle button. This is good for both people having difficulty in Hard mode, or for light players who need some help from time to time.
A new trailer showcasing co-op play can be seen below.
Throughout Knack, you'll find walls and doors you can smash, burn down, or destroy. There are over 60 secret rooms—some out in the open, others hidden—where you'll find a chest with a gadget part or rare Crystal Relic.
There are a total of eight gadgets, each requiring three to seven parts to complete. Once you complete a gadget, it can be equipped to Knack to enhance his abilities. These are a couple of the gadgets:
Combo Booster – allows Knack to boost his attack strength by hitting enemies 8 times in a row without taking damage himself.
Harvester – lets Knack collect Sunstones from defeated enemies. In these chests you may also find Crystal Relics, like diamonds or rubies.
Any single Rare Relic you find will unlock a new form of Knack to use in a second play-through. Each variation of Knack has different characteristics, like super strength or super fragility.
Whenever you find a secret chest, you'll be able to either take the item you found in the chest, or choose any item a friend found in that same room the last time they played.
Other secret areas will contain more parts to help Knack grow or Sunstone Crystals to fill up your super move gauge.
In other Knack-related news, a new mobile app called Knack's Quest is now available free on iOS (it's also coming soon to Android). It is a three-in-a-row jewel game featuring Knack, where you gather parts to help Knack grown before time runs out. Through Knack's Quest, you can also unlock gadget parts and Rare Relics for use in the full game on PlayStation 4. When the game launches on November 15, there will be an update to the app that connects it to the PlayStation 4 game, allowing you to transfer any items you've unlocked.
View a new set of screenshots at the gallery.
Thanks, PlayStation Blog.